My selection from the Her Noise Archive is the interview with Else Marie Pade by Henriette Heise and Jakob Jakobsen for Free Utv in 2005. The film's informal nature provides a charming, mostly sonic, portrait of Pade. She converses in Danish and as I am not a Danish speaker, I watch the film not in order to gain insight into her compositional methods or creative history, but for other reasons. The device of her speaking to an interviewer, but without hearing her words, only her compositions, also proves hypnotic. This adds another aspect to the film's sound world. Items located within the domestic scene provide clues about her creative life: a piano, accessorised with a rubber and pencil sharpener; the boxes of tapes; reel-to-reel machines and what appears to be, perhaps, an oscillator. An enchanting and important film about a composer hitherto unknown to myself.
I would like to see Pamela Z interviewed, as Z's artistic practice involving the use of technology, the voice and the body is intriguing. It would be interesting to discover how her compositional process has evolved since first coming across her in a 2004 interview in Tara Rodgers 'Pink Noises: Women in Electronic Music and Sound'. In the interview she discusses her development as a performer and composer, women's involvement in electronica and the uses of technology.
I would add Pierre Schaeffer's A La Recherche D'une Musique Concrète (1952), translation by John Dack and Christine North (2009), published by University of California Press to the bibliography and a Nagra IV portable stereo analogue recorder would be my choice as an additional item for the Archive.  My initial thought was to include some sort of recording device. Then it meandered onto variously adding a CD not currently present in the collection, some type of souvenir/object obtained from an artist etc, etc. Tape as a medium has had a central, somewhat pivotal role in the development of electroacoustic music, but it has, for the most part, been superseded by digital technologies. Initial recording devices used by myself as a child included an old Duette tape recorder, which captured songs such as Donna Summer's Love To Love You Baby and Alessi's Oh Lori from Radio Luxemburg. My formal introduction to the world of recorded sound was while learning to use a Nagra at art school. I've always found it to be an object of absolute beauty and craft and for me it represents the complexity and simplicity of what is possible with recorded sounds.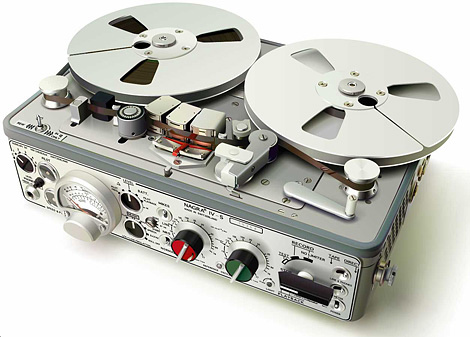 –Ain Bailey, 2012


Ain Bailey is a sound artist and dj living and working in London. Bailey recently graduated from Goldsmiths, University of London with a MMus in Studio Composition.
Her electroacoustic compositions make extensive use of synthesised samples and field recordings, and are utilised for installations, moving image soundtracks, and multichannel and stereo playback.
Works include the soundtrack for the film Oh Adelaide!, a collaboration with the artist Sonia Boyce; a live soundtrack performance in March 2011 at The Showroom Gallery, for Lois Weber's classic silent film Suspense (1913), and Trun an 8-channel playback composition at Shunt, June 2010. In addition, Bailey also created a soundtrack for the award winning video Red She Said, 2011, by Kerstin Schroedinger and Mareike Bernien. Live electronic performances include those at Sonic CueB, June 2011 and Electroacoustics at the Sho-Zyg exhibition, September 2012. Commissions have also come from mouvoir: a Cologne-based dance company, to create sound works for inclusion in the productions Beautiful Me and Cactus Bar, which toured extensively throughout Europe, including Dusseldorf, Lisbon, Stockholm and Barcelona.