I remember a moment of bass massage in Kaffe Matthews Sonic Bed in her studio in 2006 in London with Eliane Radigue, Kaffe Matthews, Ryoko Akama and me eight months pregnant with my daughter Lumi. I cherish this memory like a precious rare stone I will never throw away. Generations of dedication to sound in one bed. I have known Kaffe's work since the 1990s and have been her friend and collaborator and I distinctively remember the moment when she was creating her concept for Music for Bodies. While digital music had been largely listened to by a specific group of nerds, code music was now massaging the bodies of the art lover in a wider sense. Kaffe Matthews sonic bikes for instance go even further and perform in public space. I am inspired by the crossover of music and sound into the everyday lives of people and I think Kaffe's bed marks an important step, not just of some sci-fi idea of sleeping in bass, but of a sustainable and ecological embedding of sonic art into society.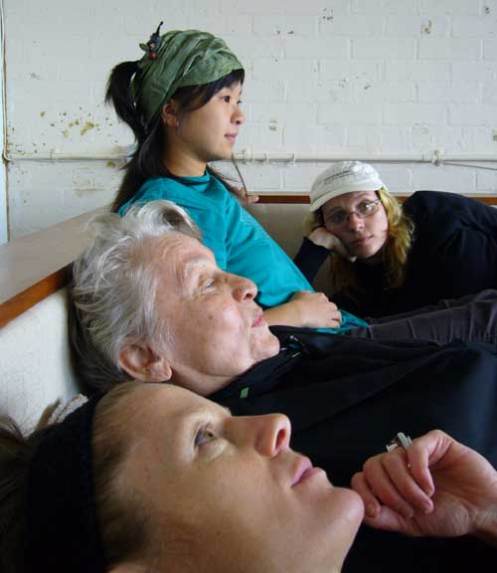 Image credit: Listening Lappetites in Sonic Bed courtesy of AGF
Two genius visual artists working with sound I'd like to see interviewed, one is my frequent collaborator Sue.C and the other, an installation artist from Berlin, Rosa Barba. I often approach sound, song writing and music through a different medium than sound or music such as film, books, light. Both of these artists have a conceptual and technological approach to sound I share but also bring a lot of heart and warmth to it.
Also I'd like to see interviewed two extraordinary electronic musicians from the former U.S.S.R. – now Ukraine and Georgia – deep songwriting and composing with electronic media, TBA and Zavoloka.
Fearless women who stand up and deal with a mainstream world which is a million times more uncomfortable than the alternative environment I work in, using their voice to break through for their race, their stories and rhymes. I am generally and eternally grateful for their point of views, M.I.A., Ms Dynamite, Nicki Minaj, Missy Elliott.
My suggestions for adding to the Her Noise Archive would be a few works by songwriter and producer Natalie Beridze aka Tusia Beridze aka Nate Fisher aka TBA, Annulé and The Other. Also all records by Ukrainian composer & producer Zavoloka, Angel Haze Dirty Gold, Nicki Minaj first mix tapes especially Barbie, Bitch, all M.I.A. records and Ms Dynamite's mixtape A Little Darker Bootleg.
When I was 16/17, years before the wall came down, living in East Germany, I was obsessed with this book by Christa Wolf, Cassandra. Although I moved maybe 30 times since then, the book always stayed with me. Cassandra's traditional role — as the seeress who tells the truth but is not believed — is reinterpreted. I would like to share a few quotes from Cassandra,
On voice: It is not the voice, it is the tone
On society:  When [did] this dreadful split between individuals and society really begin?
On nature: Was it necessary that the man should come to stand 'alone' before Nature — opposite Nature, not in it? asks Christa Wolf, in Cassandra.
Identifying cross-gender (Hector her brother):
In the deepest depths, in the innermost core of me, where body and soul are not yet divided and where not a single word or thought can penetrate, I experienced the whole of Hector's fight, his wounding, his tenacious resistance, and his death. It is not too much to say that I was Hector: because it would not be nearly enough to say I was joined with him.
I found an interesting read whilst writing this post, Spinning the Web of Life: Feminism, Ecology, and Christa Wolf by Marlene A. Shiwy (1990) from which I think this extract is worth noting,
Christa Wolf has not idealized women or "female values" as such; she suggests that we do not even fully know what these values would be. Instead, Wolf has called for a full integration of both male and female elements into an authentic and transformed understanding of what it means to be human, based on a recognition that "the measure of humanity is not man, but man- and- woman.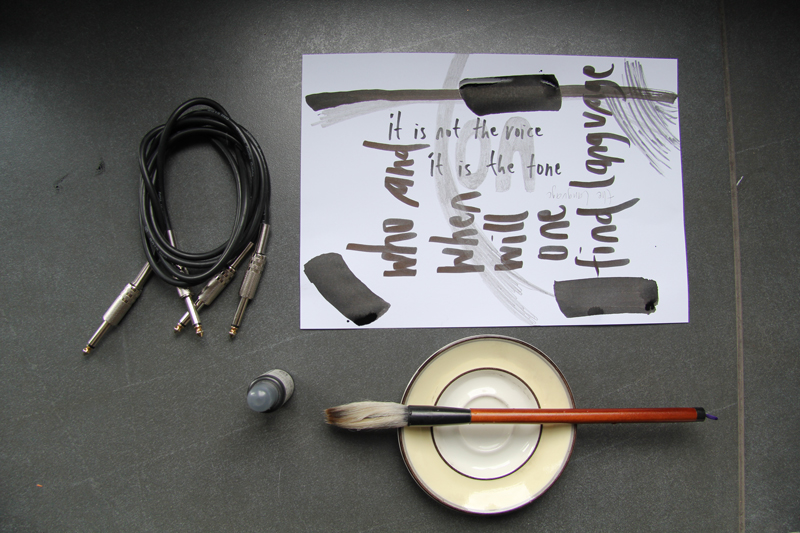 Image credit: Cassandra Calligraphy by AGF
Cassandra
rather loose her youth
as daughter loved
prophecy trails
her reluctance to love
deflowering, hacked
low and abandoned
truth seekers listen!
she has foreseen
the fall
— AGF, 2013


AGF is the artist name of Antye Greie-Ripatti. Born and raised in East Germany, now based in Hailuoto, Finland. AGF is a vocalist, digital songwriter, producer, performer, e-poet, calligrapher, digital media artist and curator. She is known for artistic exploration of digital technology through the deconstruction of language and communication. Her poetry, which she converts into electronic music, calligraphy and digital media, has been presented on records, live performances and sound installations in museums, auditoria, theaters, concert halls and clubs in Europe, America and Asia.
Other projects include the German electronic duo Laub, The Lappetites, AGF/ DELAY (with Vladislav Delay), THE DOLLS (Vladislav Delay and Craig Armstrong) and Zavoloka/AGF, collaborations with Craig Armstrong, Ellen Allien, Gudrun Gut, Eliane Radigue, Kaffe Matthews.
In addition to partaking in an interview for the Her Noise Archive which may be viewed here, AGF has very kindly donated the CDs Einzelkämpfer (2009) and Beatnadel along with her Hai Art Zine to Her Noise.