My visits to the Her Noise Archive helped me get an overview of discussion and research at the intersections of gender and experimental music while also hinting at numerous specific paths. Such lessons have also impacted my research practices. To use Deleuze and Guattari's distinction, my work consists of multiplicitous mapping and potentially homogenizing but, I hope, carefully conducted tracing of American 'free folk' / psychedelic music scenes. This blog post connects items, performers, and labels to ideas and interview aspects explored in my theses, especially 2012's Gender construction and American 'Free Folk' music(s).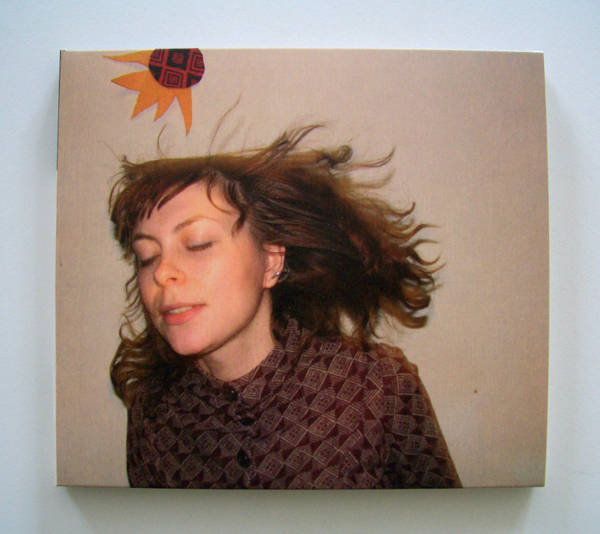 One of the artists featured on the Her Noise Map is Finnish singer and multi-instrumentalist Islaja (Merja Kokkonen). Her work has drawn a line of flight away from dubious designations such as 'forest folk' applied to the musically and geographically diverse Finnish scenes active in psychedelic DIY musics. Kokkonen, interviewed by The Wire's Derek Walmsley (April 2007, 12), claims that "[a]ll that 'Finnish forest folk' talk started to bore me". As the press release for 2010's Keraaminen Pää (Fonal) states, "Islaja has left the forests and moss-covered paths behind."
In fact, Kokkonen is now living in Berlin and has been working on a new album. The more electronic music she produces nowadays differs from 2005's Palaa Aurinkoon (Fonal, pictured), her second album and my item of choice from the archive's collection. If I remember correctly, Palaa Aurinkoon was part of my first ever order from Volcanic Tongue, the store run by The Wire's David Keenan and Her Noise alumna Heather Leigh Murray. I am extremely fond of its warmth, its cohesion achieved through DIY techniques and technologies (also reflected in the cover's take on the artist portrait cover trope), and the unique songwriting on tracks like 'Rohkaisulaulu' – check out its still quite foresty video here.
I also want to mention one of her other projects, Hertta Lussu Ässä with Jonna Karanka (Kuupuu) and Laura Naukkarinen (Lau Nau). The long – and sporadically – running group's self-titled album on De Stijl (2011) is a particularly joyous example of collaboration at a time when, as Britt Brown discusses in The Wire's January 2013 issue, solo projects are taking over for financial, technological and (band-)political reasons – a development that might once again decrease the chances of there being more all-female groups.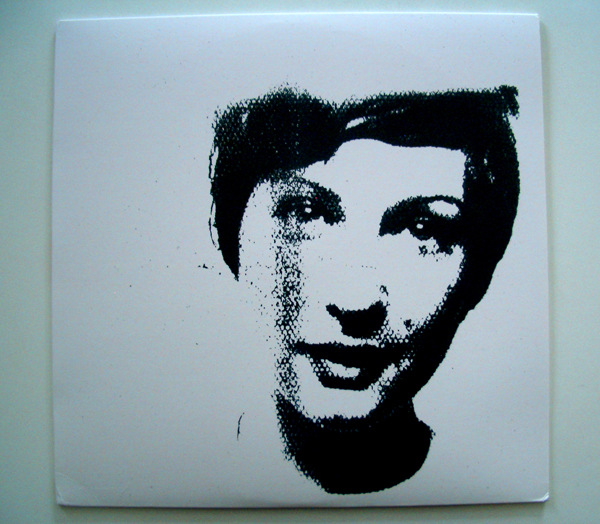 My work is mostly based on relatively open but still specifically prepared qualitative (problem-centred) interviews, and I hope to continue conducting these. As a result, my thoughts when asked to select a potential interviewee for Her Noise immediately focused on the question of which one of my interviewees I could recommend. I will single out Eva Saelens (Inca Ore) here. Saelens, living in Oakland, CA, is an unconventional DIY musician who started playing music at a relatively late point while still based in Portland, OR. Over the years, she has worked with musicians like Heavy Winged, Tom Carter and Yellow Swans, while also touring and recording as a member of groups like Alarmist, Malibu Falcon, and Jackie-O Motherfucker. Her radical improvised album with Lemon Bear's Orchestra (her partner, Michael Whittaker), the divisive but, to me, exhilarating The Birds In The Bushes, appeared on Kill Rock Stars offshoot 5RC. She is also responsible for getting me into contact with Sharon Cheslow (Chalk Circle, Coterie Exchange), participant and historian of numerous different experimental music scenes and another potential contributor to and interviewee for Her Noise.
Saelens's solo work often consists of uniquely affecting, space-shifting, multi-layered, sometimes even hymn-like pieces, as on favourites like Birthday Of Bless You (2008, pictured) and Silver Sea Surfer School (2009, both on Not Not Fun, the latter also on Acuarela). Multi-voiced or at least irreducible to a single player's obvious actions as they often are, musics like Inca Ore's can put authorship and the gendered musician subject into question (see Jeremy Gilbert on 'becoming-music'). The "massed voices" and "vocal magic" (David Keenan1) of many artists in these scenes also hint at technological innovations like the affordability and accessibility of loop / delay pedals which, as pointed out by interviewee Glenn Donaldson (Jewelled Antler, Horrid Red), help musicians avoid difficult band politics. These have often been male-dominated, as suggested by writers like Mavis Bayton, Mary Ann Clawson and Mary Celeste Kearney. One could argue even further that these technological potentials make such musics particularly accessible to women who are traditionally (again, via Bayton and Clawson) directed towards or even restricted to the use of the voice.
One of the reasons I am suggesting Saelens as an interviewee is that she – like most others in these scenes, but these days even more so – isn't a full-time musician, a factor that emphasizes her unique perspective. Her first concert in quite a while recently took place at a fundraiser for a cooperative grocery she is involved in. Additionally, one of the main inspirations for this blog post was the realization that various friends active as musicians and / or organizers in the blossoming Viennese experimental music scene are fond of her work. Most importantly, Saelens is a very self-reflective and generous interviewee who, for example, discussed the unsustainability and pressure of the early role she adopted as a much-noticed female in what was a male-dominated music scene, and the sometimes not very durable forms of support arising from that constellation. Her further trajectory incorporates such reflection and is, I believe, very inspiring. These topics may be encountered in an interview alongside ideas on creative scenes' social-political potentials and a huge reservoir of experiences made in the company of other extremely interesting musicians. As Saelens's insightful and beautifully written blog2 has been offline for quite a while, her voice is sorely missed.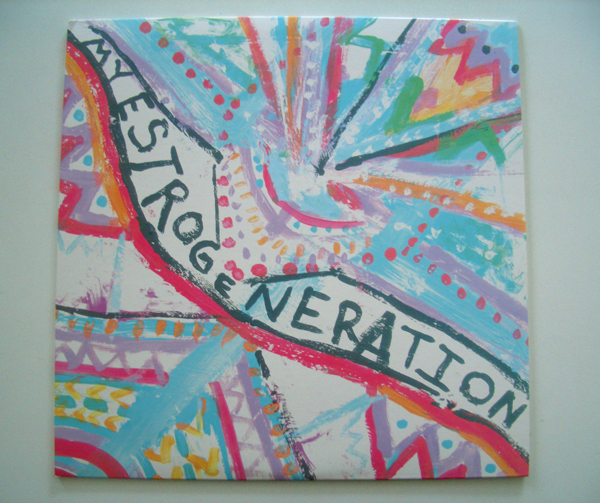 I would like to list two compilations as potential additions to the archive. My Estrogeneration (2009, pictured), focusing on female artists, emphasizes Not Not Fun co-owner Amanda Brown's "commitment to having a strong female presence on the roster" (Simon Reynolds in The Wire's May 2011 issue, 42). Like Thurston Moore's ATP festival that I saw Islaja and Inca Ore (both in band form) at, compilations are specific manifestations of scenes that are multiple and dynamic. This compilation also serves one specific manifestation of what Not Not Fun, a label that is an "eclectic sound factory" (Nick Southgate in The Wire's October 2011 issue, 60) rather than harbinger of a single aesthetic, was like at the time of its release. Here, Islaja collaborates with Samara Lubelski and Blevin Blectum, constituting one of the Finnish-U.S. hybrid groups that played 2008's Approximately Infinite Universe tour.
Chocolate Monk's Broken Brain compilation also features Kokkonen (in Hertta Lussu Ässä) and Saelens alongside female musicians from various generations, including Her Noise alumnae Kim Gordon, Heather Leigh Murray and, depending on what The Polly Shang Kuan Band's exact line-up for its contribution was, possibly Maya Victoria Kjellstrand. Both compilations do the much-needed job of emphasizing the presence of female musicians in these scenes. This, of course, is also a risky move that could be seen as reducing these musicians to their, or rather a specific gender – indeed, these scenes don't see much explicit questioning of the hegemonic gender binary. However, implicitly, these musics challenge such categorizations. Also worth noting is that both compilations are out of print – implying the classic archival task of saving rare artefacts for future generations.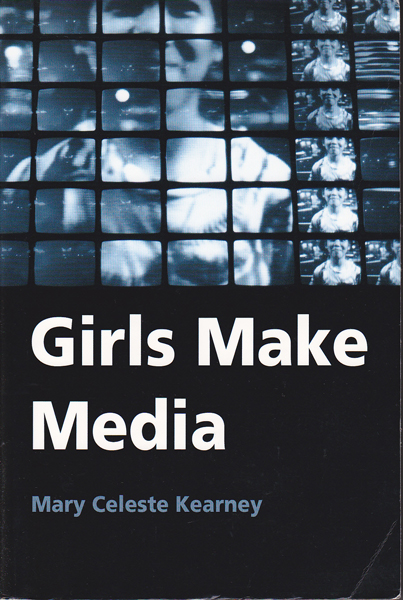 Finally, I want to discuss a book that I think would fit the Her Noise bibliography. Mary Celeste Kearney's Girls Make Media (Routledge, 2006) isn't chiefly about music, instead focusing on other realms of girls' / young females' oft-excluded, ignored or simply not supported media production, such as film-making, zine-making, and web design. However, not only should such production be of interest to those discussing the context of (female) youths' musical activities, but Kearney's interest in riot grrrl's 'networked media economy' is present throughout the entire book. The book's conclusion reveals a certain disappointment with music scenes' development and their on-going domination by male musicians, although Kearney sees room for optimism thanks to educational and technological innovations. Their influence certainly may be a topic worth researching for many a future visitor of the Her Noise Archive.
– Maximilian Spiegel, 2013.
Maximilian Spiegel studied political science and history at the University of Vienna, Austria. His diploma theses discussed Gender construction and American 'Free Folk' music(s) (2012) and Politics and American 'Free Folk' music(s) (2013), respectively. He is currently working on a book for the Löcker Verlag's Cultural Studies series.
1. [I am referring to an excellent talk once downloadable at http://www.ictgateshead.org/radio/2007/02/david_keenan_aesthetics_of_fre.html but now offline]↩
2. [The blog once was located at http://www.urbanhonking.com/incaore/]↩